Each year we see new record temperatures and an increasing presence of dire natural disasters. 2020, following this pattern, is said to once again break predecessor records. We have witnessed disastrous fires, a premature and long-lasting hurricane season, and abnormal weather in different regions of the world. However, this news is more concerning than prior years due to 2020 falling on a La Nina year.
What is the La Nina Effect?
This phenomenon is a weather pattern change in the Pacific Ocean. La Nina's coupling event, the El Nino Southern Oscillation- or ENSO- has the opposite effect. It is instigated by the reversal of Trade Winds and Ocean Currents in the Pacific Ocean. Thus, influencing warmer ocean temperatures on the West coast of the Americas and the upwelling of cold nutrient-rich water on the East coast of Asia. This cold water, however, is normally present in the Western Pacific rather than the East, ensuring flourishing fisheries and an absence of extreme wildfires. However, the change in wind direction and ocean currents alters the composition of the ocean and weather. But, back to the La Nina effect. This effect is an extreme normal and known as a cooling effect. California would have even drier conditions and even more aggressive wildfires, fisheries would flourish, and there would be even more hurricane activity in the Atlantic and Gulf of Mexico.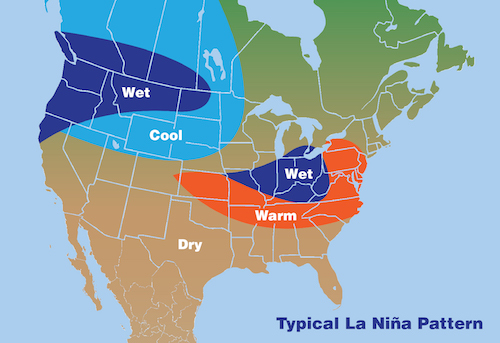 2020's Abnormal Weather Patterns
The European Union has warned that 2020 is headed to break the 2016 record of being the hottest year recorded. In an article by Jake Johnson, he reported, "'Globally and in Europe, September 2020 was the warmest September on record, with the global average 0.05°C warmer than the previous warmest September in 2019,' the European Union's Copernicus Climate Change Service (C3S) said in an analysis released Wednesday morning." Though this is common for a La Nina year, these patterns are abnormal at this magnitude. Some say that 2020 is a perfect example of what we have to expect in the future. As greenhouse gasses pile up and Climate Change progresses, there is a heightened concern for environmental scientists. Ivana Kottasova, a writer for CNN exclaimed that "The recurrent climate phenomenon, which developed in August and strengthened in October, is normally associated with below-normal sea surface temperatures in the Pacific Ocean caused by changes in winds, air pressure and rainfall." Despite La Nina being limited to the Pacific Ocean, it normally serves as a cooling effect for the entire planet- which has not been seen this year. So, even with this "cooling," 2020 has still surpassed the temperatures documented in 2016.
We already are seeing the degrading effects on the environment, but this year more so than ever. With merely a 1.8°F rise from the pre-industrial period, it has caused unimaginable harm to our atmosphere and the environment's stability. Just in December scientists have measured a difference of "1.16 degrees above normal" (Zeke Hausfather). This year as well as previous years have posed as a mass wake-up call addressing the integrity of our Planet's future. Whether or not detrimental fossil fuel industries will answer this confrontation just might determine the future of mankind.
Sources:
Kottasová, Ivana. "2020 Set to Be One of Three Hottest Years on Record despite La Niña's Cooling Effect, Report Says." CNN, Cable News Network, 2 Dec. 2020, http://www.cnn.com/2020/12/02/world/climate-change-effects-wmo-2020-intl/index.html.
Common Dreams, and Jake Johnson. "Scientists Warn 2020 on Pace to Become Hottest Year Ever as September Heat Smashes Previous Record." Common Dreams, 7 Oct. 2020, http://www.commondreams.org/news/2020/10/07/scientists-warn-2020-pace-become-hottest-year-ever-september-heat-smashes-previous.
Press, The Associated. "2020 Likely to End up Hottest Year on Record." NBCNews.com, NBCUniversal News Group, 15 Dec. 2020, http://www.nbcnews.com/science/environment/2020-likely-end-hottest-year-record-rcna199.
"What Is La Niña?" NOAA SciJinks – All About Weather, scijinks.gov/la-nina/.